about this website

This website is a replacement for the original David Mulholland website. It is dedicated to the work of my late friend the artist David Mulholland. I have compiled this online gallery/catalogue of his paintings, watercolours and drawings so that everybody has the opportunity to see and appreciate his powerful and emotive art. This will be the only place to see a full collection of David's work. Enjoy it!
Tom French
If there is anyone fortunate enough to own some of David's work and would like to have it included in the online gallery, please get in touch via the contact section:
Powered by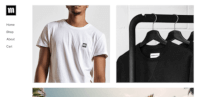 Create your own unique website with customizable templates.